A Balinese-inspired enclave that lets you own a residential farm lot where you can build your dream home surrounded by nature's bounty
Location: Tanza-Trece Road, Brgy. Paradahan, Tanza, Cavite
Lot Area: 750 - 3,963 sqm ±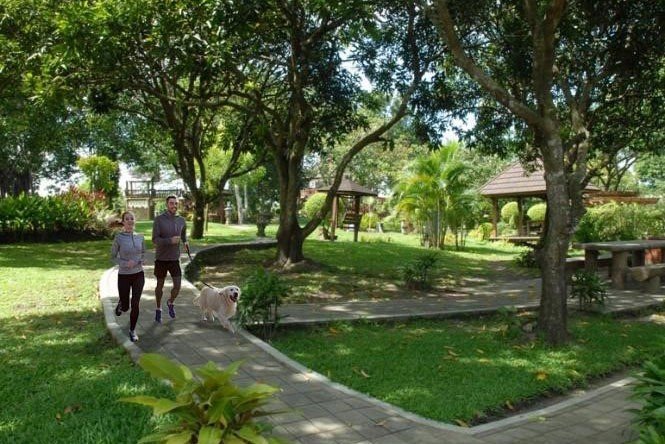 A low-density American New England-themed subdivision with lush surroundings and a range of leisure amenities perfect for holistic family bonding
Location: Bacoor Blvd., Bacoor, Cavite
Lot Area: 110 - 468 sqm ±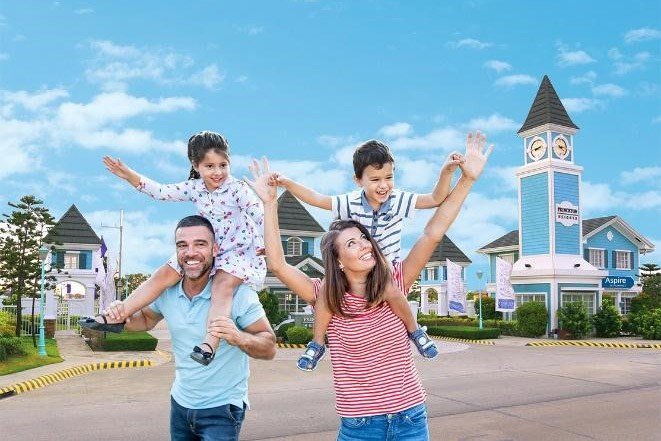 As a province, Cavite has been synonymous among city dwellers as a place for out-of-town getaways, where they can breathe in the fresh countryside air while relaxing in charming bed and breakfasts and enjoying picturesque views of its surrounding nature. Think of the breathtaking Taal Volcano, which scenery can be the backdrop for your relaxing staycation or a bulalo food crawl, or the awe-inspiring slopes of the province's mountains, where soothing beach experiences lurk around the corner.
Cavite is also rich in history and culture. It was the site of the Philippine declaration of independence in Kawit and the Battle of Corregidor during World War II. Plus, with its many historical homes dotted across cities, the province is filled to the brim with the character that many of us have become familiar with through our school textbooks and field trips.
Aguinaldo Shrine in Kawit, Cavite
Moreover, Cavite is blessed with a strategic location as it is near the National Capital Region. Economic progress in the metro easily gets spilled over onto the province, as seen in its many industrial and commercial establishments that prop up an ever-growing economy.
Now, what if we told you that you could finally live this sense of rich escape every day without compromising on the urbanized lifestyle that you and your loved ones have become used to?
This is what our Aspire by Filinvest residential properties in the province offer, giving you the chance to reap the rewards of living in the province for you and your loved ones. Discover more as we uncover the perks of getting your own house and lot for sale in Cavite.
Cavite's Highlands: Your Accessible Retreat
As an easy getaway destination from the metro, Cavite abounds in natural beauty. You can revel in the charm of the beaches of Maragondon, which are known for their clear waters and glitzy country clubs by the seaside. There is also the iconic destination of Tagaytay, where many tourists come to experience its beautiful landscapes and cool mountain air.
In addition, you can also find here Mt. Pico de Loro, with a staggering peak that resembles a parrot's beak. It is a favorite among mountain climbers as it boasts panoramic views of the protected landscapes and the nearby shores of Limbones Cove. That is why when you have finally got your home in Cavite, you will feel like you are on vacation all year round.
Bacoor to Dasmariñas: Burgeoning Urban Developments
Another reason why many Filipinos are pining for their piece of Cavite is the province's excellent quality of life made possible by the burgeoning urban developments in the province – from the many malls where you can get your essentials and more to the numerous industrial parks that offer exciting employment opportunities.
For instance, the cities of Bacoor, Imus, Dasmariñas, and Cavite City are highly urbanized and home to major mall developers, that give its growing middle class the modern conveniences they have come to deserve. Moreover, Cavite currently houses 12 economic zones that cater to various sectors like garments, semiconductors, food processing, and pharmaceuticals. All of them are increasingly in demand for highly qualified professionals to manage their production.
Cavite Economic Zone in Rosario and General Trias, Cavite
Photo courtesy of Wikimedia Commons
The recent infrastructure upgrades now make travel a lot easier. Road chokepoints are easing at last, with thoroughfares such as the Manila-Cavite Expressway (also known as CAVITEX), the Kaybiang Tunnel (the country's longest underground tunnel that links the metro to Cavite and Nasugbu, Batangas), and the Muntinlupa-Cavite Expressway (also known as MCX, which helps reduce travel time from Daang Hari to Alabang to about 45 minutes). Indeed, with its rapid infrastructural growth, Cavite is developing to be the next metropolitan center near NCR, making now the perfect time to invest and even settle in this growing province.
Ready to Cater to Your Educational and Medical Needs
With its optimistic economic picture, it's no doubt that this has also caused a ripple effect in the quality of education and healthcare one could get in Cavite.
Here, you can enroll your loved ones in excellent schools from the primary to secondary levels like:
St. Scholastica's College Westgrove in Silang
Elizabeth Seton School in Imus
De La Salle Medical Sciences and Health Institute in Dasmariñas
De La Salle University - Dasmariñas
Far Eastern University Cavite Campus in Silang
Lyceum of the Philippines University Cavite Campus in General Trias
De La Salle University - Dasmariñas
Photo courtesy of De La Salle University - Dasmariñas Website
If you are in search of quality medical care, Cavite also has several top-class hospitals that could fulfill your every need such as:
De La Salle University Medical Center in Dasmariñas
Prime Global Care Medical Center in Bacoor
Southeast Asian Medical Center in Bacoor
This is why whichever city you decide to settle in Cavite, you are never too far off from receiving the best in education or healthcare.
What to Look for When Investing in A House and Lot in Cavite
With these advantages, it is also important to factor in the kind of house and lot you want to invest or settle in here in Cavite. Here are some things to look for when undergoing your real estate research.
Convenience
Convenience is king when searching for a Cavite house and lot. It would be preferable if your chosen property is situated near major thoroughfares or commercial districts in the province, so everyone in the family can easily get what they need and go to their destinations on time.
Potential Gains
In relation to the first item above, accessible location is one of the most apparent indicators that your investment property could reap greater rewards in the future, as more people aim to move further on as the area around it develops.
Safety
Take a look at the security features or measures that the residential community you are looking into has. Ensure you are protected with fences, perimeter walls, gates, a guardhouse, and even roving private security personnel typically found in exclusive communities.
Relaxing Environment
Not every Cavite house and lot is made equal. Aside from the surrounding nature, well-equipped amenities could also add to a sense of everyday relaxation among residents. Do consider these particularly if you have children who will greatly benefit from verdant open spaces and leisure areas.
Live Your Dream with Aspire by Filinvest
Being a trusted property developer by Filipinos for generations, Aspire by Filinvest can guarantee you the relaxing Cavite lifestyle you have been dreaming of. Imagine thriving with your loved ones in a low-density community surrounded by verdant environs, open spaces, and refreshing amenities – all in an accessible location near your daily essentials and serviced by top telco providers. This is made possible by our two master-planned communities in the province – Nusa Dua in Tanza and Princeton Heights in Bacoor.
Think an Aspire by Filinvest property in Cavite is just for you? Whether in Nusa Dua or Princeton Heights, start your journey into getting the ideal house and lot for you and your loved ones. Inquire with us and call our sales hotline now. To learn more, head on over to our page for the full details.
Aspire by Filinvest lets you live your dream life with all the space and greens you need – whether you're in the heart of the city or thriving in the suburbs. Greening the way forward, Filinvest continues to build the Filipino dream with sustainable, future-forward principles that ensure healthy and quality living in the new normal and beyond. Click here to explore our horizontal communities nationwide.