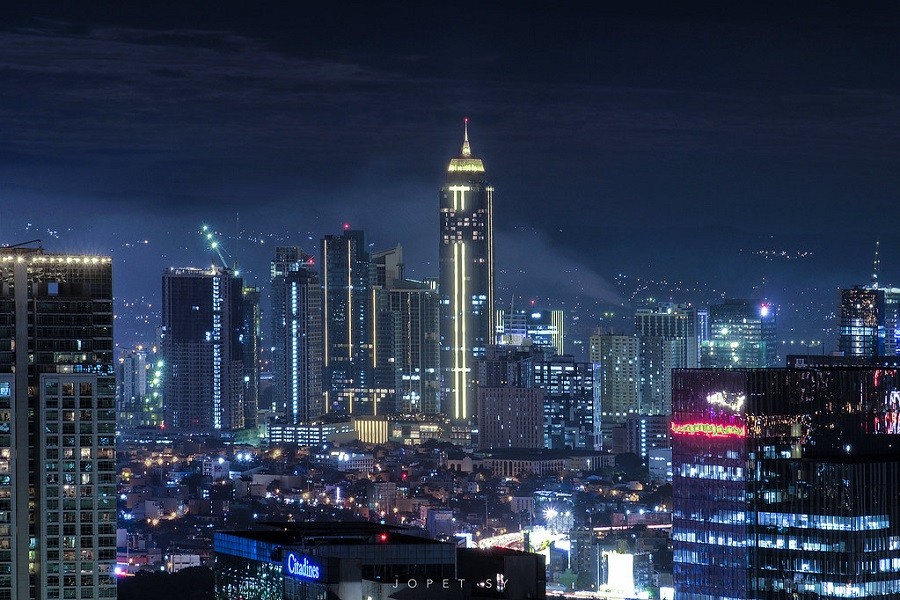 Condo in Makati: Living Your Best Life
Live in the heart of the business, shopping, and entertainment district of the Philippines with a condo in Makati. Aspire by Filinvest assures residents a close proximity to global business companies, multicultural gastronomic delights, and luxury commercial establishments. Whether it's a condo for sale in Manila or elsewhere, your ideal home has to fall perfectly in line with your lifestyle. Read on to learn more about the city of Makati and the different properties Aspire by Filinvest has to offer!

Makati City: Wall Street of the Philippines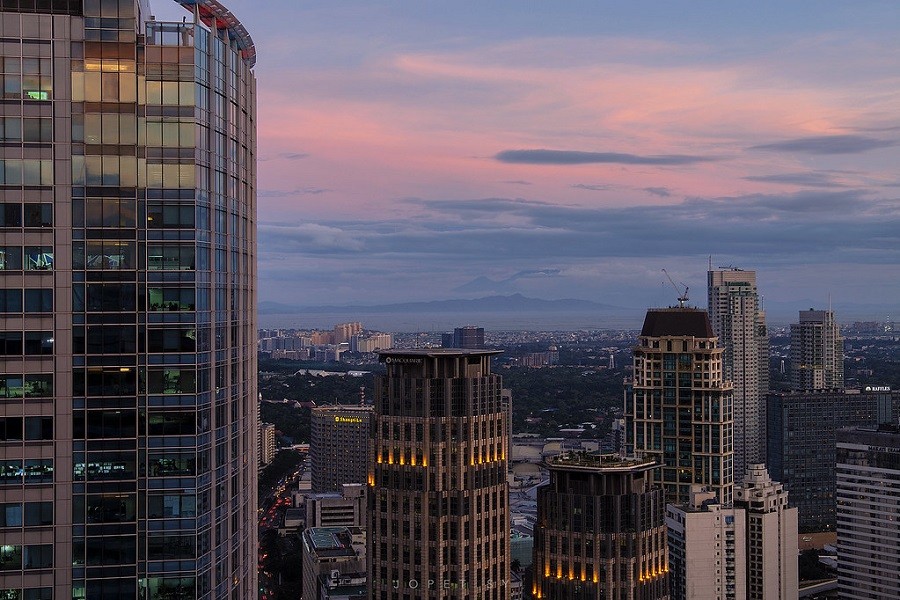 The History of Makati
The city was originally a settlement called "San Pedro de Makati". It was under the supervision of Franciscan friars. It gave birth to two of the country's oldest Catholic Churches: Nuestra Señora de Gracia and the Church of Saints Peter and Paul.
In the late 1800s, it was the center of the Philippine Resistance against Spain. Acts of the revolution were led all around the area by the Katipunan leader Pio del Pilar. In the early 1900s, its name was officially shortened to "Makati".
In the 1930s, the Nielsen Field was built, creating the first airport in the Philippines. Makati became the country's financial capital after villages, offices, and other properties were set up in the area.
In current times, Makati continues to be the epicenter of business, with constant deals being set between local and international companies. This has made condos in Makati a popular place for working professionals.
Benefits of Living in Makati
Living in Makati means being able to meet and collaborate with people from all over the world. Since the area is an epicenter for international businesses, there are a lot of foreign individuals from different countries residing at condos in Makati.
The area is also a popular location due to its number of easily accessible commercial establishments that offer a diverse set of luxury brands and restaurants. It is a secure location to live in due to the heavy implementation of laws by a number of policemen patrolling the area.

San Antonio: The Linear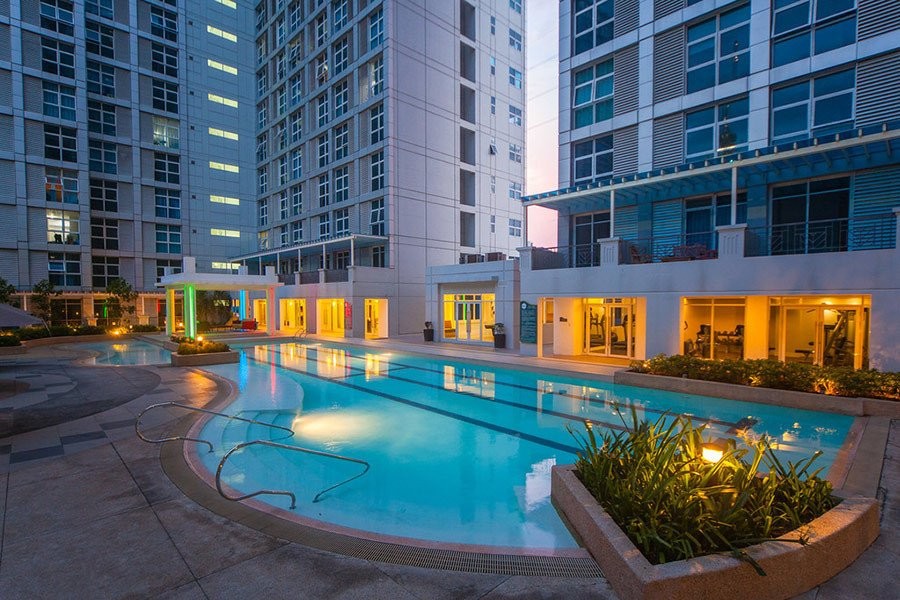 Live a Balanced Lifestyle at the Linear
This high-rise condo in Makati is for those who want to have an active and dynamic lifestyle. The Linear is a mixed-use building that combines lush greeneries with accessible amenities and facilities. It is perfect for new families and working professionals looking for a fresh start. The units offered at The Linear are studio units, 1-bedroom units, and 2-bedroom units.
Where to Have Fun with Friends
The Linear is home to a number of activities you can enjoy with friends. There is a 25-meter lap pool available for you and your loved ones to use to beat the summer heat. Feel free to bring your own swimming equipment and play some water sports. You could also choose to work on your tan and go sunbathing by the poolside.
Another exciting part of the condominium is the game room. The design utilizes elongated windows to give you an overhead view of the city of Makati. It has a pool table available to residents of the condominium and their peers. The game room also has a darts area.
Found within the condominium is a multi-purpose basketball court that can be converted into an events space. You can invite your group of friends over to shoot some hoops as the court is accessible to residents as well as their companions. You could also convert the area into a futsal court by adding two goals on the opposing ends.
If you and your friends enjoy learning about history, then a place to explore is the Ayala Museum. Found at the heart of Makati, the exhibits are a combination of the Philippines' past, present, and future. The museum is home to a number of notable historical artifacts as well as contemporary pieces of art. There are exhibits that showcase local products made throughout history, such as pre-colonial gold, Indigenous textiles, and ceramics. The museum also holds special events that showcase current advancements in the art world. It has had events that showcased sketches done by national artists and other paintings that have never been shown to the public. It has also had events that show other mediums of art such as photography.
Retail Therapy
The most luxurious of condominiums, such as Aspire by Filinvest's 100 West, is home to retail areas that offer international brands for you to explore. If you are looking for other commercial establishments, there are a number of them surrounding condos in Makati. One such establishment is the Greenbelt Mall, which is a 5-building complex that houses high-end luxury brands and restaurants. Greenbelt 1 consists of mostly home appliances and electronic retail stores. Greenbelt 2 is home to fine dining restaurants with a variety of global cuisines. Greenbelt 3 is home to the cinema area as well as high-end retail shops. Greenbelt 4 is one of the smaller buildings but is a prime location if you want to shop for the most premium luxury brands. Greenbelt 5 is a combination of retail stores that specialize in high-quality local and international products.
Another establishment that you can explore is Glorietta, which is also divided into a 5-building complex. It is found near many condos in Makati and is home to a number of retail shops where you can get different brands of clothing, electronics, and toys. This mall is more suited for families as it has a large activity center located in the middle, which usually hosts different kinds of events.
For easy access to fresh produce, you can check out SM Makati. It is the first store in the Philippines that tried to combine different kinds of brands in one establishment. Nowadays, it is home to a number of local and international brands all of different industries and products. SM is also known for its groceries that house a number of different products from all over the world.
Legendary Food Spots
Makati is known for its restaurants that elevate the quality of classic dishes with a twist. Just a short distance away from The Linear was once the first airport in the Philippines. It has now been converted into The Nielson Tower. The establishment aims to preserve this particular part of the country's history by creating a themed restaurant called "Blackbird". This restaurant upholds the area's past by recreating dishes from all corners of the world. Experience world-class themed dining at Blackbird.
Bun Appetit was originally one of the must-have treats at the Salcedo Weekend Market. Its roaring success has now allowed it to open up a stall at the Power Plant Mall in Rockwell. The business prides itself on being able to replicate the famous lobster rolls in New York City. They have elevated and created a local version by using only ingredients found in the waters of the Philippines. Their menu consists of three dishes: a shrimp roll, a lobster roll, and a crab roll. Try these delicious sandwiches for an authentic bite of New York.
Nihonbashitei is one of the most well-known restaurants in Makati. Its accurate portrayal of Japanese culture and cuisine is beloved by foodies looking for a legitimate experience. They offer different kinds of fresh sashimi, hand-cut by their trained sushi chefs. They also serve their own renditions of classics such as spicy salmon and spicy tuna rolls. Check out this restaurant with your loved ones for a true taste of Japan.
If you're looking for some good food while on a night out with friends, then check out the streets of Poblacion. These bars are found just a few minutes away from The Linear and have been the hottest destination for friends looking for a good time. Each bar has its own unique theme that they tailor their menu to. Try different kinds of fantasy around the Poblacion area.

Pio Del Pilar: 100 West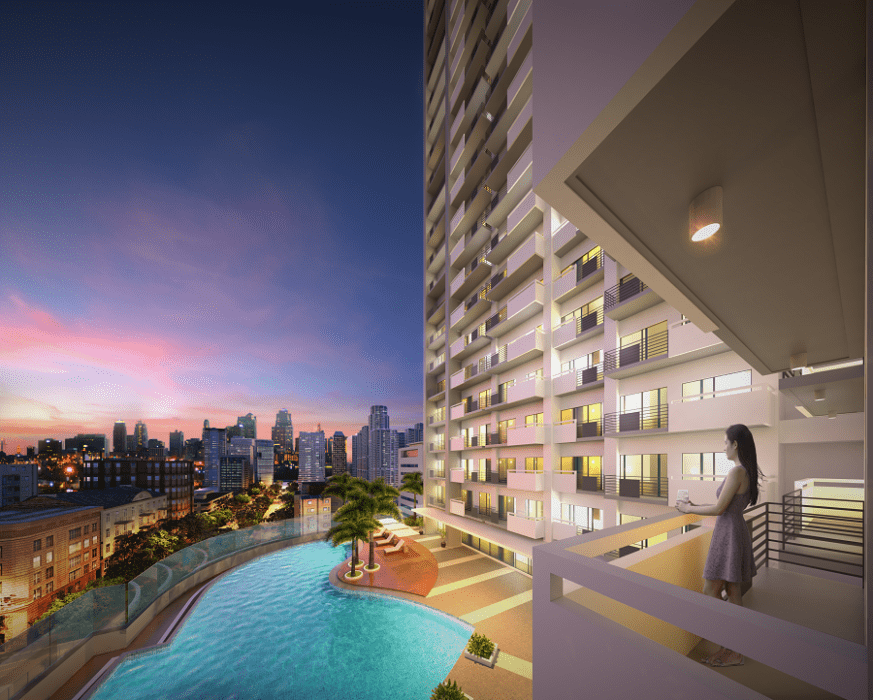 Find Everything You Need in Life in 100 West
100 West prides itself on being a condo in Makati that is able to provide everything its residents need under one roof. The goal is for their residents to have a "Live-Work-Play Lifestyle." Within the condominium are places to eat, spaces for you and your family to hang out in, and facilities to help you get physically fit. The units offered in 100 West are 1-bedroom units and 2-bedroom units.
A Serene Place for Relaxation
Something difficult to find in a bustling city is a stress-free place to relax and enjoy nature. 100 West has a number of areas catered to individuals looking for a peaceful time. Within its walls is a retail area with wellness shops for you to purchase organic face masks and other products that can help you relax while inside your luxury condominium unit.
Another such area is the meditation garden. This area is a garden surrounded by different kinds of flora. You could lay down a mat and practice some yoga. Or you could relax by doing some Tai-Chi.
If your idea of a relaxing time is spent by the water, 100 West has an infinity pool available just for that. You could do some laps around the pool to get your heartbeat going or you could play around with your friends and family. You could also sit back, relax, and watch the sunset over Makati.
The leisure hub is a place for you to enjoy some delicious concoctions. It is tended to by a professional who is there to ensure that you have a good time. You can bring your significant other to the hub to have a drink or two with.
Perfect Places for Family Bonding
The Greens garden in 100 West has an outdoor playground for children to play amongst nature. They could meet other young residents and play with the slides. You can enjoy the cool Makati wind as you watch over your children enjoying themselves and having the time of their lives.
Another option for bonding is the family outdoor lounge. This area is a large space where your kids can run around in. You could also bring some equipment and play sports such as soccer or Frisbee. This is a good place for you and your family to have some fun.
There is also an outdoor theater and community garden found in the Skyline Deck. You could bring your own snacks, comfortable blankets, and watch films ranging from different genres. This is a great way to have some fun and bond with your kids.
Be pleasantly surprised with new dishes and products every Saturday and Sunday at the Salcedo and Legazpi Weekend Markets. What is normally a parking lot on the weekdays are converted into well-known markets on the weekends. These markets are known for their high-quality global cuisine and fresh produce stalls. Some stalls have become so popular that they were able to set up actual shops in nearby commercial establishments. Come and explore what new items these weekend markets might have to offer.
If you and your family are looking for a new experience, then you can avail of the helicopter tours that showcase the skyline of Makati. There are a number of packages you could choose from that have different flying times and different locations. Trips can range from 10 minutes to 1 hour and can go through a number of locations such as Mall of Asia, the Fort, and even Taal Lake. Fly through the skies of Manila with your own personal helicopter.
Where to Stay Active
100 West offers a wide range of services when it comes to fitness. First, they have the Fitness Center and Yoga Studio where you can use amenities such as treadmills and different weights of dumbbells. You can also bring your own mat to practice your yoga poses on.
There is a jogging trail available around 100 West for residents who enjoy going on long runs. You could run alone, with friends, or even your family in a safe place. Get a good sweat in just around the corner with 100 West.
If you're looking for a larger open space to get some exercise in, then check out the Ayala Triangle Park or the Makati Park and Garden. These places are ideal for those who want to find a piece of nature within such a busy city. You can safely jog around the area while taking in the beautiful scenery. You could also bring your own equipment and play some field sports in the large space.

The Most Ideal Condos in Makati with Aspire by Filinvest
Whether it's a condo for sale in Pasig or elsewhere, you deserve only the best. Live in the heart of a bustling global city in an Aspire by Filinvest property. Be just a few steps away from what the world has to offer when you live in a luxury condo in Makati. Click here to learn more about Aspire by Filinvest's properties in Makati!