Fall in Love with these Heart-Racing Valentine's Dates Ideas
14 February, 2019
---
Special times call for special measures. This Valentine's Day, trade the classic candle-lit dinners and moonlight walks in the park for these one-of-a-kind romantic adventures guaranteed to make this Day of Love a day to remember.
Warning: Pickup lines may be cheesy and not guaranteed effective.
In to the Woods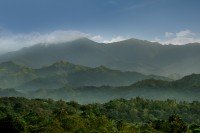 For the city lovebirds, a getaway from the urban jungle is definitely in order.
Thrill in each other's company as you face nature's most exhilarating challenges. Rock climb, mountain bike, or hike in the Philippines' lush woodlands. Water raft, surf, or dive into the country's exotic waterbodies. Sharing these heart-stopping moments with your significant other really endears you to one another, strengthening not only your feelings, but also your trust and rapport as partners.
Bonus pickup line: I don't know what's more gorgeous—this lovely day… or you.
Cruisin' for a Lovin'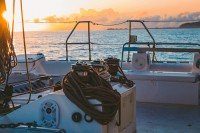 Near, far, wherever you are, a front-row view of the majestic tropical coastline will always be romantic.
Live out your childhood Titanic dreams on ferry rides along some of the Philippines' most iconic seascapes. These cruises will make you feel like the king (or queen) of the world as the ship sails around top local destinations, while the wind caresses you, rife with the bracing ocean mist, and the setting tropical sun paints the world in dreamy pastels, as you wrap your arms around your SO who goes: I'm flying!
Bonus pickup line: I can't stop sinking a boat you.
Defy Gravity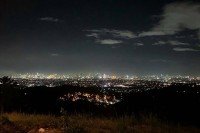 Sometimes you just have to go big or go home—and if you're going home, why not do it in style?
Helicopter tours will take you to a whole new world with a bird's eye of view of the Philippines' finest, from the glittering skylines of metropolises, to the breathtaking land- and seascapes of the provinces. Check out companies that also offer a sky diving deal to really complete this gravity-defying experience.
Bonus pickup line: I may fall from the sky, I may fall from a plane, but the best way to fall… is in love with you.
Fake It 'Til You Make It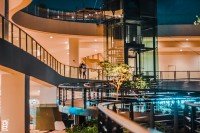 And for those whose heart is where the home is, a fake-cation is guaranteed to be a romantic getaway unlike any other.
Go around your neighborhood and take photos in spots that look like they belong somewhere else. Caption your snaps to make it seem you're going on a date much farther than the three blocks you walked, and throw in a few passport shots for good measure. Take it up a notch by dressing up in seasonal clothes (winter clothes get brownie points), or even by looping in a foreigner or two into your picture. Have fun and be as creative as you can with the ruse, and try to see if anyone can figure out where you really are.
Bonus pickup line: Do you have a map? I keep getting lost in your eyes.
Feel the love on Valentine's Day with these heart-racing, one-of-a-kind date ideas. Have an adventure in nature, cruise along the local coastlines, ride around in a helicopter, or try to one-up your Sherlock friends with a "mystery" fake vacation.
You can paint the town red even in the comfort of your own home! Filinvest offers sprawling, dynamic townscapes designed to meet all the needs of your vibrant and active lifestyle. Located in strategic points across the country, these booming communities are a complete package with topnotch residential enclaves, bustling commercial spaces, and world-class leisure facilities, putting you firmly at the heart of the action.
Find your next home at Aspire by Filinvest, and sign up for the newsletter for more details.